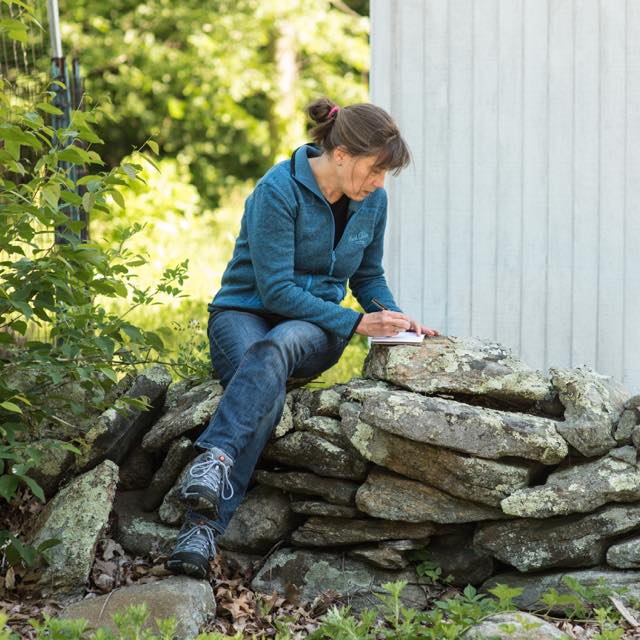 I am a writer specializing in environmental history and personal adventure narrative. I live in Connecticut. I edit the journal Appalachia. The journal is a mountaineering publication with the literary bent published since 1876 by the Appalachian Mountain Club. My stories for the journal include a story about rattlesnakes' troubles, essays about my solo encounters with wildlife and myself in the mountains, a portrait of Appalachian Trail thru-hiker guru Warren Doyle, and a personal essay on my 1987 AT thru-hike with my husband and two friends. Read that story here. I also write articles on the environment and human health for the Connecticut Health Investigative Team. 
I remain fascinated by the details of how Americans live and how we used to live. I am digging deeper into ways we pollute the planet through daily survival. I also can't get enough of backcountry rambling and the ideas around self-sufficiency.
In 2016 I fulfilled a decades-long project about the writing of the Little House books for children with my book Libertarians on the Prairie: Laura Ingalls Wilder, Rose Wilder Lane, and the Making of the Little House Books (Arcade, 2016). Let us think hard about who we think Laura Ingalls Wilder is—what made her character and her persona what we believe it to be.
After I published the book, I decided to study history more deeply. I just earned my master's in history fro Arizona State University, where I wrote papers about the causes and legacy of the American dust bowl and a research project on the dawn of industrial farming in southern New Jersey.
From "going for the cows" to politics
The central research questions of  Libertarians on the Prairie were: Who was Laura Ingalls Wilder? What was she really like? How did she use her pioneer background to live authentically as a farmer who loved simple country values? How did she draft her books? But over time the questions changed, becoming: Why did the books carry such a strong anti-government theme? Why did Laura Ingalls Wilder and her daughter, Rose Wilder Lane, keep their collaboration secret? How much did Rose help her? And finally: Why is the myth about Laura Ingalls Wilder so strong that for years her fans, even those who knew the truth, downplayed her reliance on Rose?
My next book
My next book will explore the hard life of southern New Jersey tenant and refugee farm laborers from about 1880 to the mid-1900s in a forgotten corner of the world. I'm calling this book tentatively Why Grandpop Left the Farm.