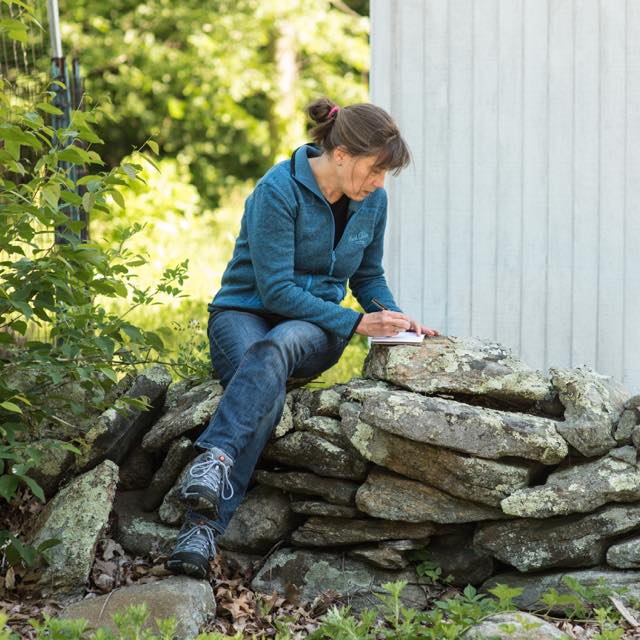 I am a writer and a candidate for a master's degree in history at Arizona State University. I live in Connecticut. I edit the journal Appalachia. The journal is a mountaineering publication with the literary bent published since 1876 by the Appalachian Mountain Club. My stories for the journal include a story about rattlesnakes' troubles, essays about my solo encounters with wildlife and myself in the mountains, a portrait of Appalachian Trail thru-hiker guru Warren Doyle, and a personal essay on my 1987 AT thru-hike with my husband and two friends. Read that story here. I also write articles on the environment and human health for the Connecticut Health Investigative Team. 
I scrutinize how Americans live, how they used to live, and how they clash with nature and natural resources. Earlier in my career, as a newspaper reporter, I was aware that I was chronicling details of American life that someday historians would read. I started climbing mountains in the Northeast in my 20s and became fascinated with self-sufficiency in the wilderness.
I knew that many people filtered their observations of American courage and independence through the Little House books for children, by Laura Ingalls Wilder. The books were masterfully written and I always wondered how Laura Ingalls Wilder became such a proficient writer, and how much of the stories were true. So I set out to find the truth, and this led to my book Libertarians on the Prairie: Laura Ingalls Wilder, Rose Wilder Lane, and the Making of the Little House Books (Arcade, 2016).
After I published the book, I enrolled in the strong history master's degree program at Arizona State University, where I am studying under environmental historian Paul Hirt and others. I have written a long paper about the causes and legacy of the American dust bowl. I am now beginning work on a piece about the interactions between vegetable farmers in southern New Jersey and the tenuous economy that kept them going in the twentieth century.
Central research questions
The central research question I carried into my work on Libertarians on the Prairie was, first: Who was Laura Ingalls Wilder? What was she really like? How did she use her pioneer background to live authentically as a farmer who loved simple country values? How did she draft her books? But over time the questions changed, becoming: Why did the books carry such a strong anti-government theme? Why did Laura Ingalls Wilder and her daughter, Rose Wilder Lane, keep their collaboration secret? How much did Rose help her? And finally: Why is the myth about Laura Ingalls Wilder so strong that for years her fans, even those who knew the truth, downplayed her reliance on Rose, and therefore presented a false character? And, what did this say about the Western myths Americans love so much? Independence, self-sufficiency, and courage? Were those constructed myths?
Challenges in my research and how I overcome them
The greatest hurdle in Libertarians on the Prairie was the public denial of facts that had already dribbled out on Laura's corporate authorship. A large, worldwide group of fans seemed bent on maintaining the myth that Laura Ingalls Wilder was the woman presented as a character in her books, and that this woman controlled her writing project. The evidence remaining in the family papers that were not destroyed suggest beyond a doubt that Laura and Rose struggled through their fraught rapport to write the books together and that together they kept the secret of their collaboration.
The importance of my research
My book contributed to scholarship by revealing how Wilder and Lane worked collaboratively, how Wilder relied on Lane to do a great deal of the rewriting, and how Lane's political views found their way into the Little House books. Because those views did end up in the books, they have given some people a sense that nineteenth-century pioneers illustrated principles of freedom in their actions. This is not necessarily the actual pioneer experience. Nevertheless, my research and my book bring out many facts and methods of the two women that help explain the process they went through to create these books that millions have loved for so long. And hidden in plain sight in the story is the birth of the libertarian political movement.
My next book
I remain fascinated with how people try living self-sufficiently in wild areas and create their own conquests, since so often these trips are so difficult. Humans' clashes with the natural world and their exploitation of natural resources also drive much of my journalism work.
My next book will explore the hard life of southern New Jersey tenant and refugee farm laborers from about 1880 to the mid-1900s. My grandfather Amos Harris Woodside left that life as a teenager, and I've always wanted to find out what it was like. The family ever after referred to my grandfather's decision to leave as "getting out of there." The industrial vegetable grower and distributor Seabrook Farms used refugees from Japanese internment camps and eastern Europe in the same area where my grandfather's family struggled. I will explore the economics of farming profitably in that area, which today still resembles a forgotten corner of the world. I'm calling this book tentatively Why Grandpop Left the Farm.