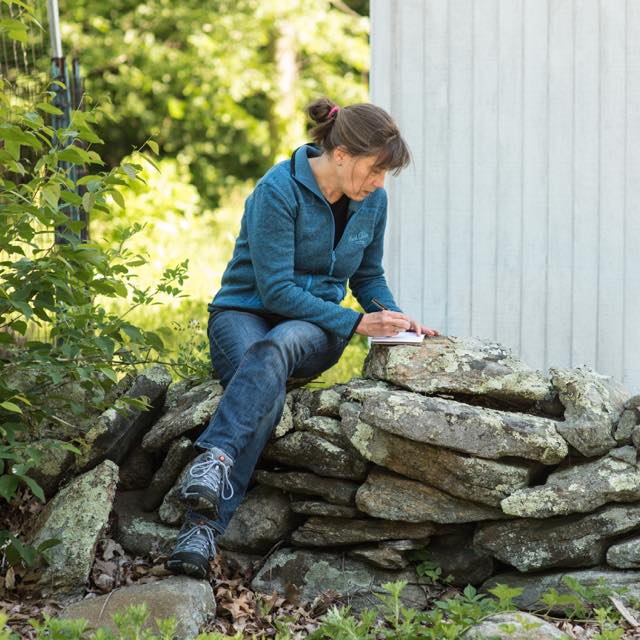 In the corners of this website, visitors may learn about Chris Woodside's work. Welcome. Pull up a chair. Send an email to chris@chriswoodside.com. Engage with her on Twitter (@chriswoodside) or Instagram (cwoodside59).
Chris is a writer, historian, and editor. She was born in Philadelphia near the end of the baby boom, grew up in a large family in Princeton, New Jersey, and has spent most of her adult life in the Northeast. Her experience of wild lands there, especially the thru-hike she did of the Appalachian Trail with three beloved companions in 1987, figure deeply in her writing and editing (Appalachia journal).
She and her husband Nat are parents of two daughters and now have a wonderful son-in-law and daughter-in-law. Family ties make it possible for Chris to work. Without this foundation, she might be wandering around her living room until 2 a.m. making false starts.
She is an expert on Rose Wilder Lane, a founder of the libertarian political movement and the silent collaborator in the Little House books. Read about her book Libertarians on the Prairie elsewhere on this website. Chris sometimes presents at conferences about the individualist ideas and feelings of Lane and Laura Ingalls Wilder. That chapter of her writing life probably is not over. There may be more writing about Rose Wilder Lane to come.
She's just started publishing fiction (her story about a surprise encounter between a gardener, hunter, and a deaf woman will appear in an anthology soon). She's working on a wilderness memoir, as you'll read elsewhere on this website. Next up, a project about small farmers in New Jersey.