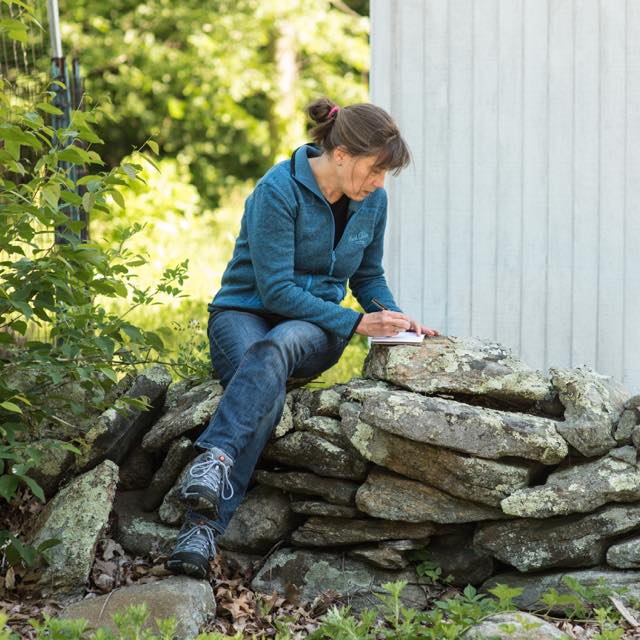 I was born in Philadelphia and grew up in a large family in Princeton, New Jersey.
I have been the editor-in-chief of Appalachia journal since 2007. I am writing a book to be published in a year by Appalachian Mountain Club Books, called The Long Way Home, about my wilderness life. I am the author of Libertarians on the Prairie: Laura Ingalls Wilder, Rose Wilder Lane, and the Making of the Little House Books.
I started my journalism career in 1981 in Philadelphia, where I was born and went to college. I have hiked thousands of miles, with others and solo, mostly in the East. I thru-hiked the Appalachian Trail at age 28 with my husband and two friends.
My essays in Appalachia include, "Fear of Rattlesnakes," "Four Quartets and Eight Legs" about T.S. Eliot and her AT thru-hike, and my editor's column, "The Long Way Home."
I edited New Wilderness Voices and AMC's No Limits but the Sky. I edited Living on an Acre (Lyons Press) and wrote Energy Independence (also Lyons). I was the project editor for Peter Kick's Desperate Steps, published by AMC.
I earned a master's degree in history two years ago, teach at the University of Connecticut, and am working on what may become a book about New Jersey's small farmers at the dawn of the industrial age.
I live in the lower Connecticut River Valley of Connecticut, with my husband Nat Eddy. We have two grown daughters: Annie Spencer-Eddy Levine, who lives in Nevada, works in human resources and is a writer; and Elizabeth Eddy, a registered nurse in California. These family members make appearances in The Long Way Home.
I am a proud trail manager and member of the Trails Committee for the Connecticut Forest & Park Association. I write for the Connecticut Health Investigative Team and many other places.